The boss can't keep calm
20. February 2014.
Felfoldi news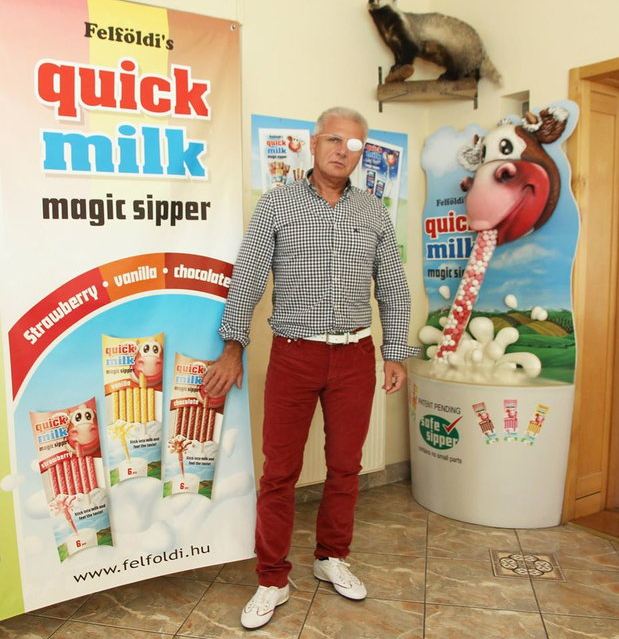 Joseph Felfoldi is a successful businessman, thanks to his crazy and innovative sweet-ideas.

When (back in the 90's) Joseph Felfoldi bought some copper cauldrons from his tragically deceased friend's confectionery factory, he had no idea what to do exactly with them. A few years later a friend of him from the confectionery industry showed him how to use them, so they started to produce dragees in the copper cauldrons. Mr. Felfoldi however wasn't satisfied with this…
PEGAZUS AWARD

The businessman - who won the Pegazus Award last year – realised in no time, that there are many rivals in the confectionery industry, so he must make something huge, to break the wall of obscurity.

"Our first successful product was a skull. If children pushed it, red liquid candy came out from the skull's eyes to its mouth, it looked like blood. The next one was Candy Spray, and a complete product family. The basic idea was mine, just like our newest products' ideas, the Popcorn-cake and Chocolate puffed corn. The most important thing is that if nine people thinking in the same way, there is no need to be the tenth in that line." – declared the businessman, this is the foundation stone of his business philosophy. But his life wasn't roses allt the way..

NOT ROSES ALL THE WAY

The first years' dynamic growing was stopped by an international trademark-cause, during which a foreign manufacturer accused the company that they stole his patent. "After years of litigation the foreign courts gave truth to us, but during this cause we sustained heavy financial losses. Virtually I lost one of my enterprises due to this legal fuss, but at least I got a new chance to start again everything." – said Mr. Felfoldi. Nowadays the Felfoldi Confectionery Ltd. has about 300 employees, the yearly income is nearly 2,5 billion forints, and it is present on the market of several continents, for example Europe, Asia, or even South-America.
Mr. Felfoldi used to say that he is an irracional guy, meanwhile he knows, that this is exactly why he could become successful, because he's unwilling to follow the others. He says sleep is a waste of time, he would rather spend that time with his hobbies (poem-writing and music).

" For now I achieved that I am the only distance between myself and my goals. My faith is that it depends on me, if I can fulfill my dreams or not."